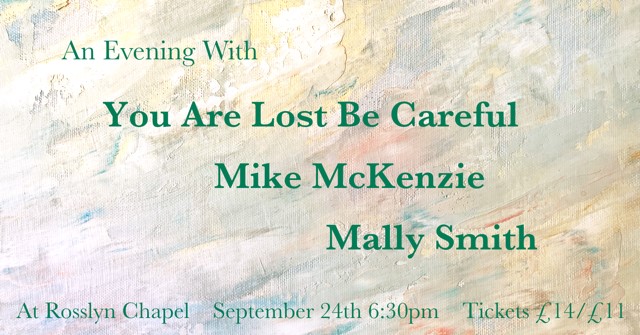 An Evening with You Are Lost Be Careful, Mike McKenzie and Mally Smith
24th September 2022 @ 19:00

-

21:00

|

£11.00 – £14.00
The trio of contemporary acts return to Rosslyn Chapel with their concert of multi-genre original music featuring Edinburgh Alternative band You Are Lost Be Careful, Boston-born folk artist Mally Smith and award winning Scottish pop artist Mike McKenzie. Doors open 6.30pm, music starts 7pm.
Mally Smith is a singer-songwriter from Boston, now living in Edinburgh, Scotland. Mally's childhood love of the melancholy ballads of the British Isles and the poetic, political songs of the American folk-revival fuel her thoughtful and beautifully honest songwriting. Her new album entitled "Free", released in June 2021, is a collection of songs that explore the cycles, spirals and circles of life, death, love and nature with a sparse arrangement and intimate, heartfelt songwriting.
Mike McKenzie (he/him) is an award-winning, queer, independent singer/songwriter and producer based in Edinburgh, Scotland. Finding his feet in the quiet listening rooms of Edinburgh, he won the inaugural BBC Scotland "Singer/Songwriter of the Year" in 2019. Alongside working on his solo releases, Mike recently joined forces with legendary synth player PJ Moore (The Blue Nile) and award winning composer Malcolm Lindsay as the lead singer for their collaborative project PJ Moore & Co.
You Are Lost Be Careful is Evan Hamilton (guitar, vocals), Zak Watt (percussion) and Drew Bryson (bass, vocals). Hailing from Edinburgh, they are an alternative rock band who's music is both fragile and soaring in its intensity. The band's unique blend of emotional lyrics and creative melodies makes for a captivating and passionate performance not to be missed. In March of 2020 You Are Lost Be Careful performed a sold out headline concert at the historic Rosslyn Chapel with a uniquely tailored acoustic set. The band now returns with long-time collaborators Mally Smith and Mike McKenzie to bring their captivating night back to Rosslyn Chapel.