Building the Chapel
In 1446 Sir William St Clair, 3rd Prince of Orkney, founded Rosslyn Chapel. It was said of him: 'William, with his age creeping upon him… came into his mind to build a house for God's service, of most curious work . . . that it might be done with greater glory and splendour.'
If you visit the Chapel today, you can see a series of shields high up along the north wall of the Chapel displaying the letters:
W L S F Y C Y Z O G M iii 1L
which stand for: 'William Lord Sinclair Fundit Yis College Ye Zeir Of God MCCCCL' (1450). We know that the Chapel was begun in 1446 and so this inscription suggests that its foundations took at least four years to build.
The Chapel itself took some forty years to build. It required a large number of workmen and it is thought that the village of Roslin grew up to house them.
All kinds of craftsmen would have worked on the building: quarriers hewed the stone, masons carved it, blacksmiths sharpened tools, and carpenters modelled designs in wood before they were sculpted in stone by the masons.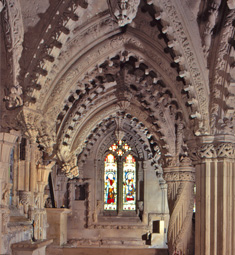 What you see today is thought to be only one part of a larger scheme. Excavations in the 1800s uncovered foundations stretching a further 30 metres (91 feet) beyond the west end of the Chapel, suggesting that a cruciform building was intended. However, William died in 1484 and work on the Chapel seems to have ceased after this time.
But nearly 600 years after it was built, the Chapel still stands testament to the fascinating mind which conceived this extraordinary design scheme. William's plan for a building of 'curiosity' and 'splendour' has clearly been fulfilled.