Sinclair Castles in Scotland
A number of castles in Scotland have strong connections with the Sinclair family. These include –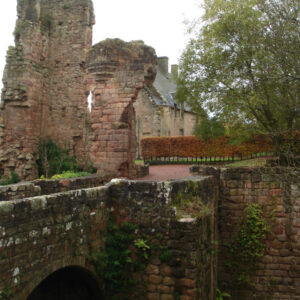 Rosslyn Castle, Midlothian
Considered the earliest seat of the family, Rosslyn Castle is situated just a short distance from the Chapel. Rosslyn Castle has evolved over centuries and the current structure probably replaced an even earlier one, situated nearby. The oldest part of the Castle is the remains of the 'lantern' or 'lamp tower' by the bridge and this was probably built around 1304, after the Battle of Roslin.
Castle Sinclair Girnigoe, Wick, Caithness 
(Adjacent to the North Coast 500 Road)
Occupying a dramatic location on the Caithness coastline, 'history' suggests that this was once two castles – Castle Sinclair and Castle Girnigoe. However recent archaeological work and research has proved that it was one castle from the mid-1400s when the Norse Fortalice that was there was remodelled and extended.
It was altered by every generation until 1680 when it was deliberately partially destroyed. Because the two names have been in use for over three hundred years the Trustees of its owners, The Clan Sinclair Trust, have agreed to call it Castle Sinclair Girnigoe.
Castle of Mey, Caithness

(on the North Coast 500 Road)
The Castle of Mey was built by the 4th Earl of Caithness, for his second son William Sinclair. Following his death, the Castle passed to his third son, George Sinclair, who founded the family of the Sinclairs of Mey and whose descendant succeeded to the Earldom in 1789. He changed the name of the castle to Barrogill Castle.
The castle then became the seat of the Earls of Caithness. In 1819, the 12th Earl commissioned the architect, William Burn, to make various ambitious alterations to the castle.
This was when the grand entrance and the dining room were added. The Castle was given away after the death of 15th Earl. It was later sold to Captain F B Imbert-Terry, who subsequently sold it to Her Majesty Queen Elizabeth The Queen Mother in 1952.
Ravenscraig Castle, Kirkcaldy, Fife
King James III granted Ravenscraig Castle, by Kirkcaldy, to William Sinclair in 1470 as compensation for resigning the earldom of Orkney and lordship of Shetland to the Crown. Originally built as a royal residence, the Sinclairs transformed it into the well-defended fort we see today. Over the central vaults, where Mary would have built her great hall, the Sinclairs instead installed a gun platform in the mid-1500s.
The castle's central entrance passage was approached by bridge over the deep rock-cut ditch. Inside was a guardroom, the rest of the central block taken up by cellars. The west tower housed the owner's four-floor apartment and the east tower housed the well and apartments for the owner's senior officials. The courtyard housed the kitchen, bakehouse and other offices.
Others with Sinclair connections –